The theme for India's G20 Presidency—'One Earth, One Family, One Future', based on India's philosophy of Vasudhaiva Kutumbakam, encourages people across the world to collectively work towards building a healthier post-pandemic world. In line with this spirit, Wadhwani AI is thrilled to have demonstrated our AI solutions in the domains of healthcare, agriculture, and education at various G20 events. In this blog post, we offer a glimpse into our participation at these events.
G20 Health Working Group Meetings
On behalf of the e-Health AI Unit of the Ministry of Health and Family Welfare, Government of India, we set up stalls to promote a host of AI-powered solutions at the G20 Health Working Group (HWG) Meetings in Thiruvananthapuram, Goa, and Hyderabad, held from January to June.
Our solutions span areas such as ophthalmology, dermatology, radiology, tuberculosis, and newborn anthropometry. They include a Clinical Decision Support System (CDSS) and an event-based disease outbreak monitoring system that assists the government in taking timely actions to prevent pandemics and epidemics and potentially save thousands of lives.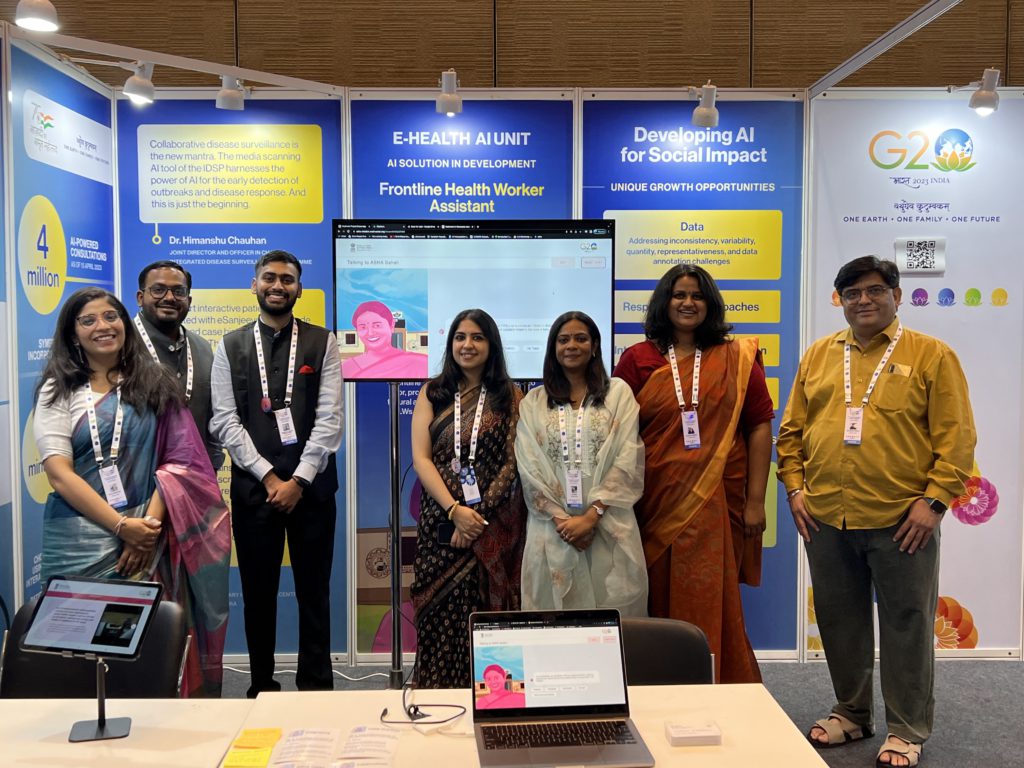 Our AI solution demonstrations engaged technology evangelists, decision-makers, policy experts, and healthcare professionals, who applauded the remarkable advancements in AI for healthcare.
Representatives from organisations such as the Asian Development Bank, the Bill & Melinda Gates Foundation, University of Oxford, and ministries of health from France and Mauritius visited our stalls and showed keen interest in our AI solutions.
Sunil Wadhwani, Wadhwani AI's Founder-Donor, delivered a keynote address on innovations in healthcare at the 2nd HWG Meeting in Goa. He elaborated on the ways in which AI can bolster ongoing efforts to improve healthcare and highlighted our achievements in this field.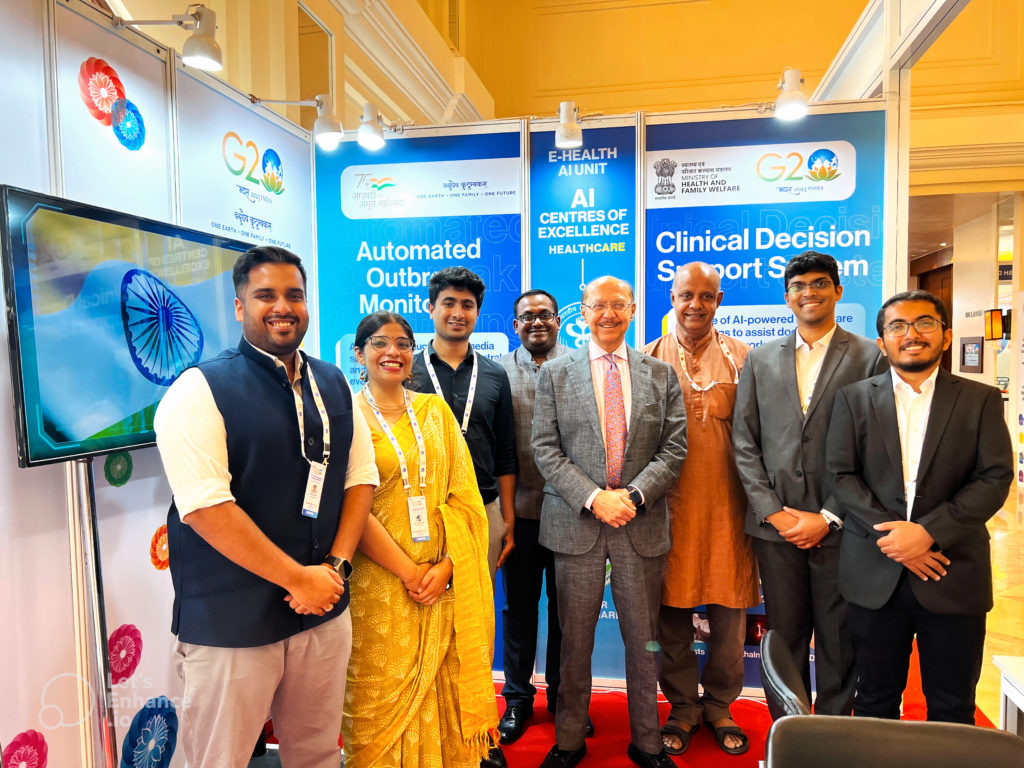 Several delegates emphasised the need for developing novel solutions in developing countries. The importance of incorporating safety checks into all our health solutions,and ethical considerations such as privacy and accountability were also highlighted.
There were several areas of discussions held during this event, predominantly focused around the crucial role of partnerships and global collaboration in healthcare research and development; preparing and responding to health emergencies; strengthening cooperation in the pharmaceutical sector to provide safe and affordable medical countermeasures; and digital health innovation to aid universal health coverage.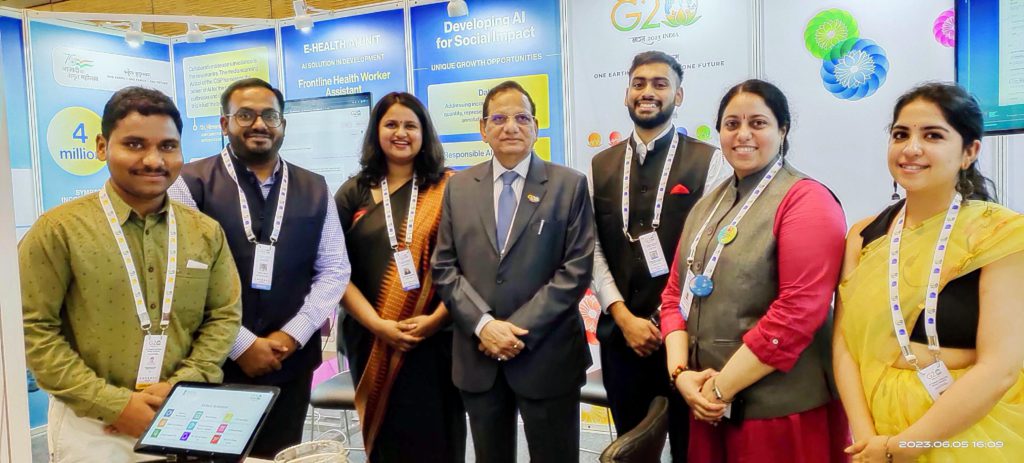 We also had the opportunity to showcase our AI solutions at Advantage Healthcare – India, an international summit organised by the Department of Commerce, Ministry of Health, and the Federation of Indian Chambers of Commerce & Industry. The event focused on promoting India's extensive medical capabilities and fostering healthcare collaborations among participating countries. At our stall, we showcased our AI solutions in the Indian healthcare sector to international collaborators, partners, and industry stakeholders.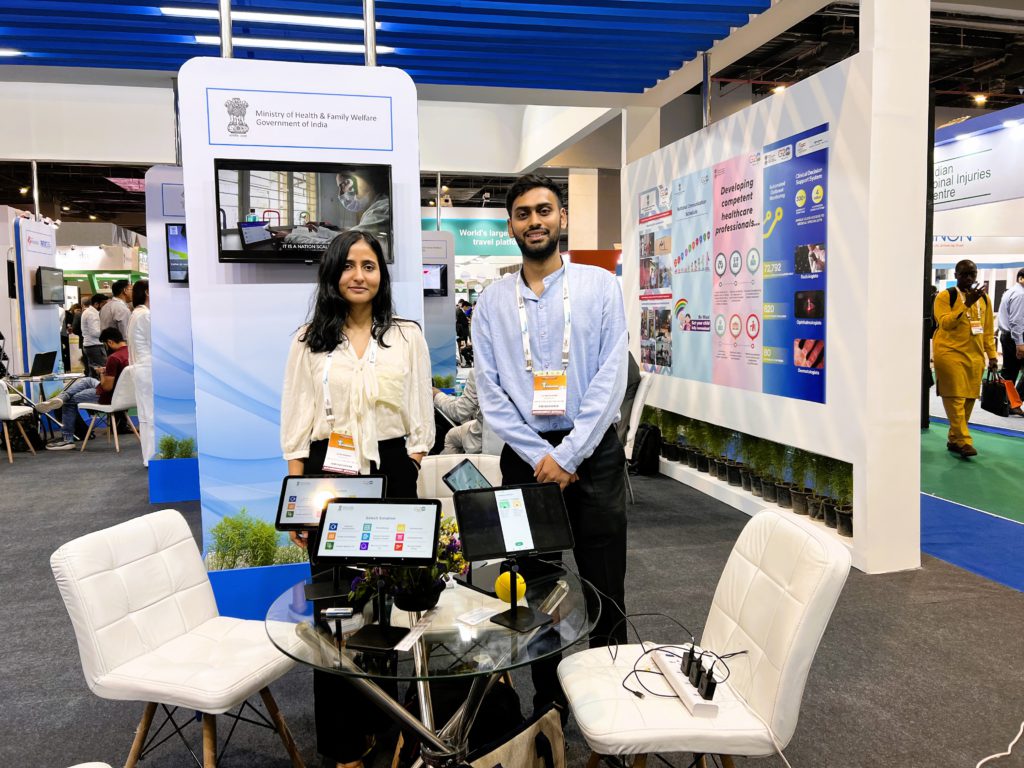 G20 Agriculture Ministers' Meeting
Aligning with the theme of India's G20 Presidency, the Agriculture Working Group (AWG) strives to enhance cooperation among member nations. It seeks to facilitate discussions and information exchange on issues such as food security and nutrition, sustainable and climate smart agriculture, resilient and inclusive food value chains, and digitalization. The meetings took place 15-17 June in Hyderabad with officials from the Ministry of Agriculture.

We were invited by the Ministry of Agriculture & Farmers' Welfare to set up a stall and participate in the panel interview. We demonstrated some of our AI solutions for agriculture, which include an Automated Agriculture News Monitoring solution, Al Chatbots for Kisan Call Centres, a tool for Crop Yield Estimation, and AgriAI Collect, our digital farmer diary.
Our solutions generated great interest among government officials from the Indian Council of Agricultural Research, and state and central government agriculture divisions. Dignitaries from Telangana Department of Agriculture, the Professor Jayashankar Telangana State Agricultural University (PJTSAU), and Netherlands Business Support Office, Hyderabad, visited our stall, among others.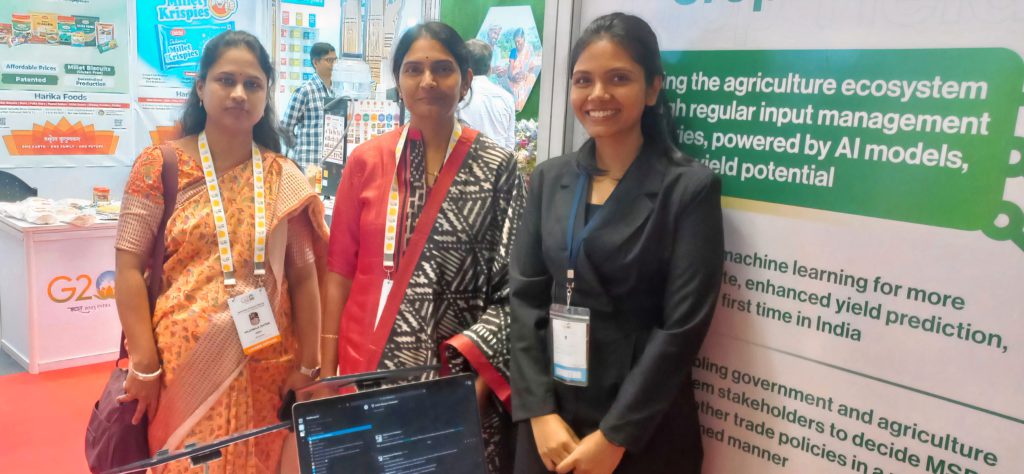 On the first day of the Agriculture Ministers' Meeting, Wadhwani AI was invited to take part in two side-events:
Managing Agribusiness for Profit, People, and Planet
Connecting the Digitally Disconnected: Harnessing the Power of Digital Technologies in Agriculture
During the side-events, we discussed the ways in which we can create improved ecosystems for agribusinesses and the transformational role of digital technology in the agricultural ecosystem of India. The panellists shed light on the importance of prioritising fair trade, promoting rural development, and fostering inclusive growth in farming communities. They explained how to build resilience into the agriculture ecosystem in the ongoing 'triple Cs' (covid, climate, and conflict) of humanitarian crises.
We acquired valuable insights into sustainable agricultural practices that balance economic success with social and environmental responsibility. Moreover, we gained an understanding of the significance of adopting regenerative farming techniques, optimising resource efficiency, and reducing the ecological footprint of agricultural operations.
G20 Education Working Group Meeting
The Ministry of Education organised the 4th Education Working Group (EdWG) Meeting in Pune, Maharashtra, 20–21 June, 2023. Delegates from G20 member countries, guest countries, and esteemed organisations such as OECD, UNESCO, and UNICEF participated in the event. The seminar, "Ensuring Foundational Literacy and Numeracy Especially in the Context of Blended Learning" was held on 19 June, 2023.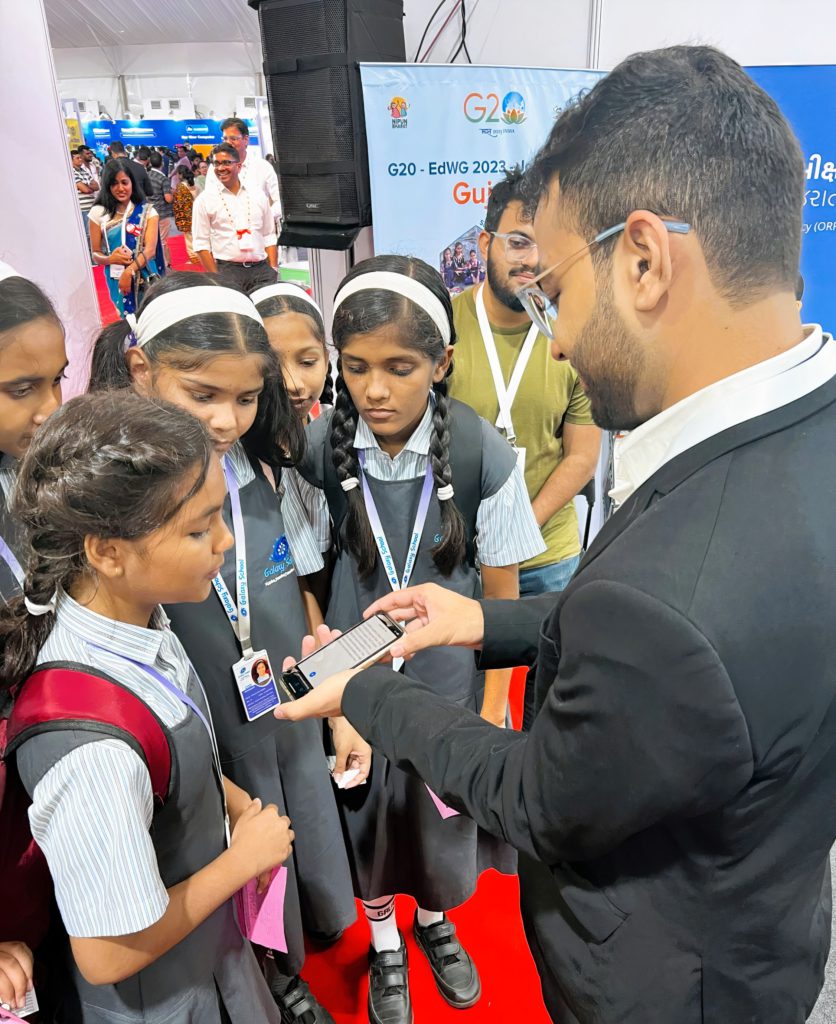 We were invited to showcase our AI solutions for education at the Foundational Literacy and Numeracy (FLN) exhibition at Savitribai Phule Pune University.
We demonstrated our AI-powered solution Vachan Samiksha, which employs advanced AI algorithms to assess oral reading fluency and accuracy. Vachan Samiksha was launched in partnership with the Education Department of Gujarat on 13 June, 2023. Several dignitaries lauded Vachan Samiksha as a game-changing innovation that can transform the future of foundational literacy and numeracy.
We also demonstrated our report automation tool, which automates reports for school, cluster, and block levels.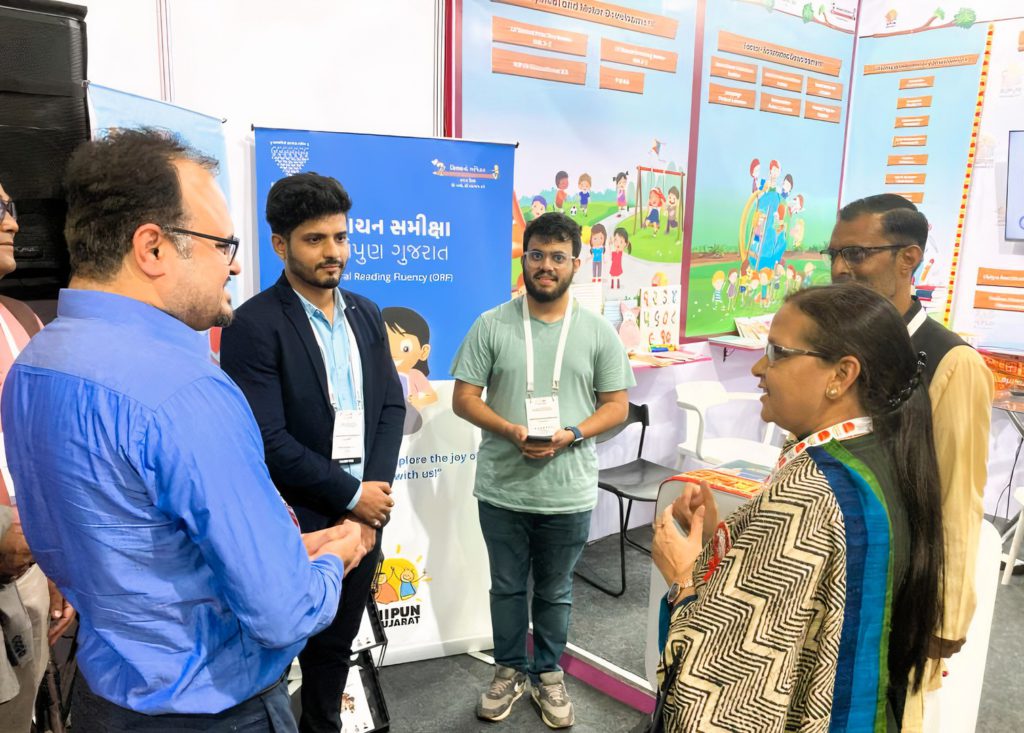 Wadhwani AI's CEO, Shekar Sivasubramanian, believes that India's G20 Presidency "places us at the centre of the world", where our participation allowed us to contribute to the global dialogue on leveraging AI in healthcare, agriculture, and education using an action-oriented and pragmatic approach to drive social impact. He noted that the discussions with visitors to our stalls "added impetus by making us think, re-think, and strengthen our capabilities to develop cutting-edge, highly relevant, and customised AI solutions for specific problems".
Wadhwani AI looks forward to many more opportunities to showcase our AI solutions that support India's significant commitment to use AI in healthcare, agriculture, and education, among other domains.