The United Nations has warned that COVID-19 could possibly trigger a global food shortage. In India, despite there being clear instructions from the government, the current lockdown has clogged the agriculture supply chain.
There are reports of trucks stuck in queues at entry points of cities waiting for passes. The lockdown is necessary to contain the spread of COVID-19, but it has affected labour availability in agriculture fields for harvesting of wheat, gram, potato and other seasonal crops. State-run Agricultural Produce Marketing Committees (APMCs) or mandis are closed for trading. There are other limited options available for farmers to sell their produce, but the current situation makes these options hard to access.
The fear is that the already unstable livelihood of the country's 140 million farmers is going to be adversely impacted.
In times like this, the business continuity of agricultural value chain activities is crucial to make food items available. It is also important to ensure that livelihoods of farmers are not disrupted.
We urgently need ideas in not only dealing with the crisis like this, but ideas that are sustainable and will benefit the country when things go back to normal.
Here are two thoughts –
Promoting and strengthening farmer collectives
Promoting ICT in agriculture
These two are not new concepts but the business case to invest in them further, are more convincing than ever before. These are crucial to prepare the Indian farmers for the future.
The first one is related to farmer collectives, i.e. a group of farmers who collectively participate in agricultural value chain activities. The collective is a legal entity that is responsible for managing commercial transactions among individual farmers, sellers and buyers.
Mewar Green Agro Producer Company, a collective of close to 500 tribal farmers operating in south Rajasthan, has ensured that farmers have access to critical technical advisory services through phone calls. The company is also reaching out to potential buyers to secure market for their produce beyond mandis. It is also engaging with agri-input (seed, fertilizers, etc) providers so that its members are prepared for the upcoming monsoon crop.
According to National Bank for Agriculture and Rural Development (NBARD), there are around 5,000 farmer collectives in India. Assuming each collective has about 500 members, there are currently 2.5 million farmers who are within the ambit of these collectives. Another 75% of farmers in the country will need to be connected to this model. It is a mammoth task, but not impossible. Especially, if the country wants its farmers to flourish with or without COVID-19.
The second is about the large-scale adoption of ICT in agriculture. The crisis has further strengthened the belief that adoption of ICT is a requisite for the farmers to access vital services.
The government's e-NAM (National Agriculture Market) platform to strengthen agriculture marketing for farmers, including the collectives, is an initiative in the right direction. The platform is expanding its features based on the current lockdown situation as well. For example, the platform has aggregated the services of transport companies bringing at least 375,000 trucks accessible to the farmers. e-NAM could become the next Uber-like on-demand service for agriculture in India.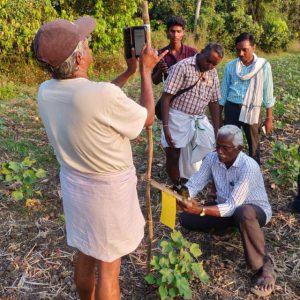 Now, if you add AI and other predictive models to the mix, it becomes a long term solution.
In a global lockdown, farmers across the world can get updates about the status of their crop, essential parameters such as weather, information about buyers, sellers, and other service providers all through ICT-based solutions. This is already happening but will have to be scaled up through public and private investment.
But are the farmers ready to use such solutions? The adoption of such technology-driven solutions will depend on the investment that the government and other stakeholders put to make farmers digitally literate. Also, the investments in creating digital infrastructure, i.e. IOT platforms, for example, will have to be pushed. COVID-19 has demonstrated the need and the opportunity to invest in this.
More investments to set up and strengthen producer collectives as well as to promote large-scale adoption of ICT in agriculture is the need of the hour. Specific interventions will vary according to the area and farmers, though investment will have to be universal. This will secure farmers livelihood, protect rural community and ensure there is food on our plates.
Co-authored by Kulranjan Kujur, an international development professional.