In April 2022, the H&M Foundation selected Wadhwani AI's CottonAce solution as one of the five winners of their Global Change Award (GCA) for 2022. The award recognises groundbreaking innovations from across the globe that are making a positive impact in the world of sustainability, textiles, and fashion. Through our AI-powered CottonAce smartphone app, our team at Wadhwani AI has helped thousands of cotton farmers across India deal with pest attacks through timely, accurate, and scientific pest management advisories. We are honoured to be a part of the prestigious GCA ecosystem.
The five organisations in the GCA 2022 cohort—Wadhwani AI, Rubi Labs, SaltyCo, Amino Tech, and Biorestore—will share in a million euro grant from the H&M Foundation. The winners have already participated in two impact accelerator programs this year, conducted by the H&M Foundation, Accenture, The Mills Fabrica, KTH, and other experts, aimed at helping organisations to unlock value, learn new go-to-market strategies, and gain collaboration opportunities with leading voices in the fashion, innovation, and strategy space.
After attending the first impact accelerator week in Stockholm in June 2022, I represented Wadhwani AI at the second accelerator last month in New York City. The accelerator week in New York City provided an opportunity to further refine our ideas, brainstorm about ways in which we can multiply the impact of our work, and collaborate with the GCA network to scale our solution.
Read on for my impressions from a highly productive week.
Day 1: Business Model Innovation
It was wonderful to reconnect with fellow winners of the GCA and our friends from the H&M Foundation, Accenture, and The Mills Fabrica at Accenture's One Manhattan West office. While enjoying the exquisite view of the famous New York skyline from the 61st floor, we took part in business model innovation exercises, during which all the teams brainstormed about how our respective solutions can create more value for all stakeholders.
The highlight of Day 1 was the business canvas exercise conducted by Accenture. It helped us map our ecosystem and better understand how we can further increase the scale of our impact by meeting the needs of customers, suppliers, governments, and most importantly, the last-mile cotton farmers we intend to help through CottonAce.
Day 2: Expert Connections
The activities on Day 2 focused on learning from the experts. Caroline Brown and Julia Viner from Closed Loop Partners, a New York-based firm that invests in startups contributing to the circular economy, took us through the startup funding journey and gave tips on how to perfect our pitches.
This was followed by a carefully crafted 360-degree value framework exercise conducted by Sara Rahiminejad and My Ewrelius Ryde of Accenture. It was a self-reflection exercise designed to discover possible paths with our innovations, and helped us refine and readjust our priorities and strategies.
Later in the day, we heard from industry experts Jill Standish (Global Retail Lead, Accenture) and Cara Smyth (Responsible ESG Retail Lead, Accenture) about trends and updates in the sustainability space and how innovative startups, such as those in the GCA cohort, could integrate into the larger ecosystem.
The day ended with 'speed dating' sessions with experts Jill Standish, Cara Smyth, Frank Zambrelli, Anastasia Marceau, and Sara Johnson. With years of diverse experience across organisations and industries, they shared valuable insights with each GCA winner individually and offered opportunities to connect with various leaders and organisations in their network across the world.
Day 3: Factory and Store Visits
Day 3 was all about having our boots on the ground and gaining practical experience. After quick pitch training sessions conducted by The Mills Fabrica, our group headed to the Eileen Fisher Tiny Factory on the outskirts of New York to witness their gigantic operation of making circular garments a reality. Carmeen Gama (Director of Circular Designs, Eileen Fisher) took us through their incredible process of recycling textiles and contributing to a more sustainable world.
The Eileen Fisher Factory visit was followed by visits to retail stores around New York to get inspired by their stories of weaving together successful business models, sustainability, and technology.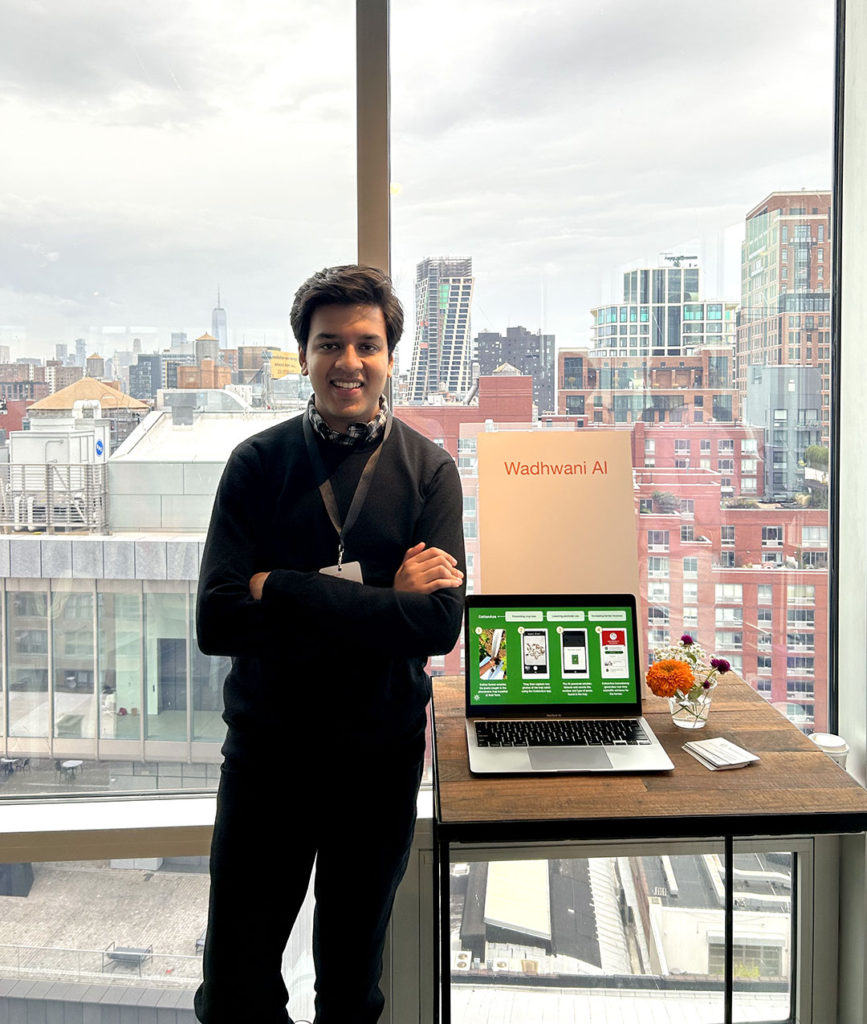 Day 4: The Planet Positive Perspectives Event
This was the marquee moment that all GCA-winning teams had prepared and waited for. The Planet Positive Perspectives event enabled GCA winning organisations to showcase their solutions and products to an audience of 150+ influential individuals representing some of the biggest brands and investors in the world. GCA winners got an opportunity to pitch their ideas to the esteemed audience and also demo their solutions. Our CottonAce pitch garnered immense appreciation and interest, with a lot of brands, textile houses, and investment funds interested in knowing more and keen to connect us to their partners in India and abroad. 
Throughout the rest of the day, we heard from experts through panels and keynotes. Senior executives from Accenture, Closed Loop Partners, Apparel Impact Institute, ISKO, and Atlante Capital, among others, enriched the audience with their industry insights.
Day 5: Production and Support
We started off our last day at New York University to meet Miguel Modestino, Director at the Sustainable Engineering Institute, and member of Sunthetics, a former GCA winner. It was fascinating to witness the work being done by the University's startup labs and understand the ways in which the innovation ecosystem is supported by academia.
During the final session of the Accelerator Week, the teams gathered at the H&M Foundation office to acquire critical insights into H&M from Jenny Cao-Wu, Kajta Ahola, Joey Peritore, and Randi Marshall, who shared perspectives on sales, public policy, and data analytics.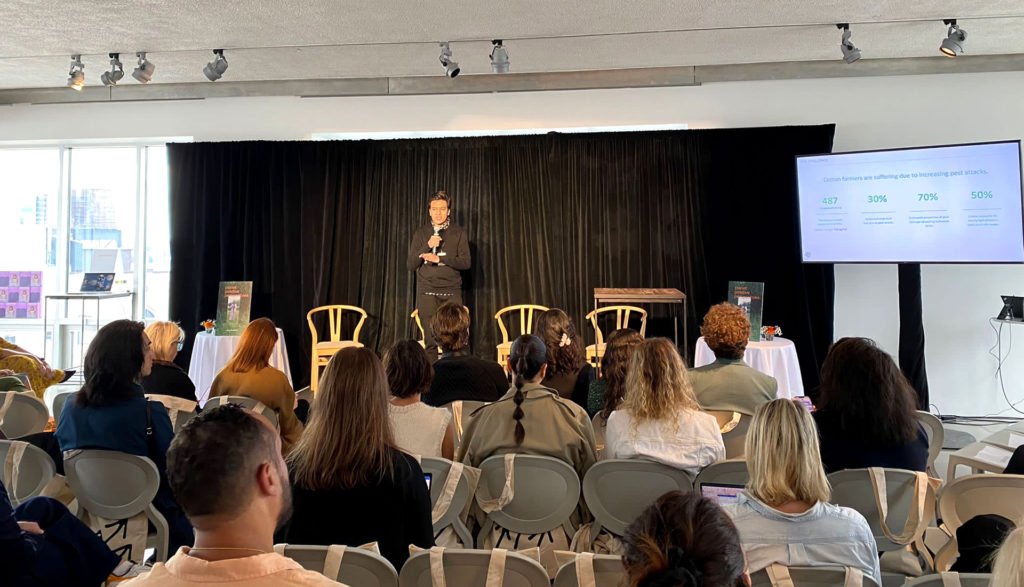 Key Takeaways
We need to do more. Faster.
GCA winners, past and present, validate that there are numerous startups striving towards making this planet more sustainable. The future is promising. However, with massive changes that climate change has brought about already, all of us have the responsibility to scale our solutions and create a profound impact.
It is possible to build large-scale planet-positive businesses that are profitable.
During our Eileen Fisher factory visit, we witnessed their garment restoration processes end-to-end and also understood their innovative business model which rakes in millions of dollars in revenue. Interactions with experts and visits to local stores in New York reaffirmed that revenue and sustainability can go hand-in-hand.
No dearth of funding for innovative solutions.
Top investors are eager to fund innovative ideas that involve leveraging advanced technologies to mitigate and reverse the effects of climate change. Big corporations in fashion such as H&M are leading the way through the Global Change Award, Green Investments, and various other initiatives, thereby contributing to a planet-positive world.
We are thrilled to be a part of the Global Change Award community and grateful to the H&M Foundation for conducting these impact accelerator weeks in Stockholm and New York City, along with their partners Accenture, KTH, and The Mills Fabrica. Being a part of the GCA cohort has unlocked important learnings and provided us with a platform to interact with global experts across the board.
If you have an innovative idea, you too could become a part of this community. The application cycle for the Global Change Awards 2023 is now open. If you are working on an idea that will help contribute to taking sustainability forward, please click here to apply before December 8, 2022.