Last week was our third anniversary.
You will recall that just three short years ago, Prime Minister Narendra Modi inaugurated the Wadhwani Institute for Artificial Intelligence. I am happy to report that in 2020, we have made considerable progress in our mission to use AI-based solutions to address key societal challenges and have also grown significantly in size.
The year 2020 was unique. The Covid-19 pandemic has disrupted life-as-usual worldwide. We are all learning what it is like to continue our work even when we are limited in our movements. At Wadhwani AI, we find solutions to problems. So, in the middle of the lockdown, we came together to fight the pandemic. We chose two paths:
Addressing the Covid-19 pandemic
Covid-19 Decision Support
In early April, we turned our energies toward applying data science to address the evolving needs of administrators in mitigating the pandemic. We supported the Brihanmumbai Municipal Corporation (BMC), the Government of Jharkhand and the Smart City Mission through predictive modelling, data analysis, building data pipelines and other solutions.
Wadhwani AI co-convened a voluntary group of multidisciplinary individuals and organizations through the Covid Data Science Consortium. We actively collaborated with universities such as IISc, Stanford and Harvard, industry players such as PWC, and volunteers through Data Science India vs Covid-19.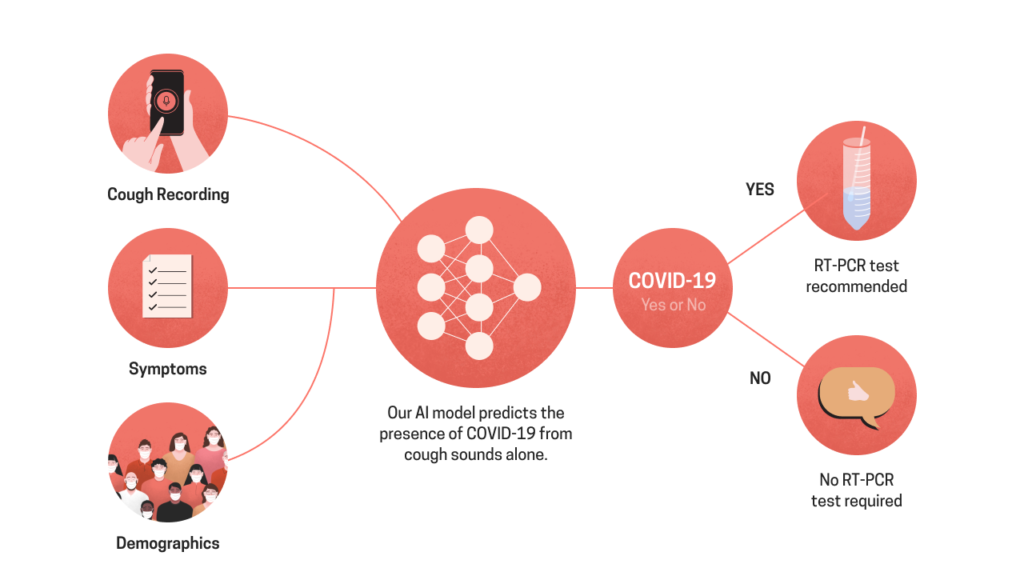 Cough Against Covid
As the pandemic peaked, the need to test multiplied, often exceeding the testing capacity within the public health systems. There was a need to develop a tool, which could detect the presence of Covid-19 without specialised equipment and act as a pre-screener. We conceived the idea of using cough sounds as a potential way to detect the presence of Covid-19. We worked with public health officials in four states of India to collect 4,500 solicited-cough sounds from Covid-19 centres. Our cough-based tool at current performance, when used as a screening layer before RT-PCR, increases testing capacity by 1.43X without increasing the number of lab-based tests. This tool can even detect the risk of Covid-19 in asymptomatic patients. We have detailed how we collected data for this tool with the help of our partners.
Our thanks go to USAID, Bill & Melinda Gates Foundation and Fondation Botnar who supported our Covid-19 efforts, as well as Governments of Bihar and Odisha and BMC, Norway India Partnership Initiative (NIPI), Doctors for you (DFY), Krishna Institute of Medical Sciences, Karad (KIMSDU) and AIIMS Jodhpur.
While we fought the pandemic, we didn't take our eye off the ball. We adapted to the lockdown restrictions and doubled our efforts.
Integrated pest management for cotton farming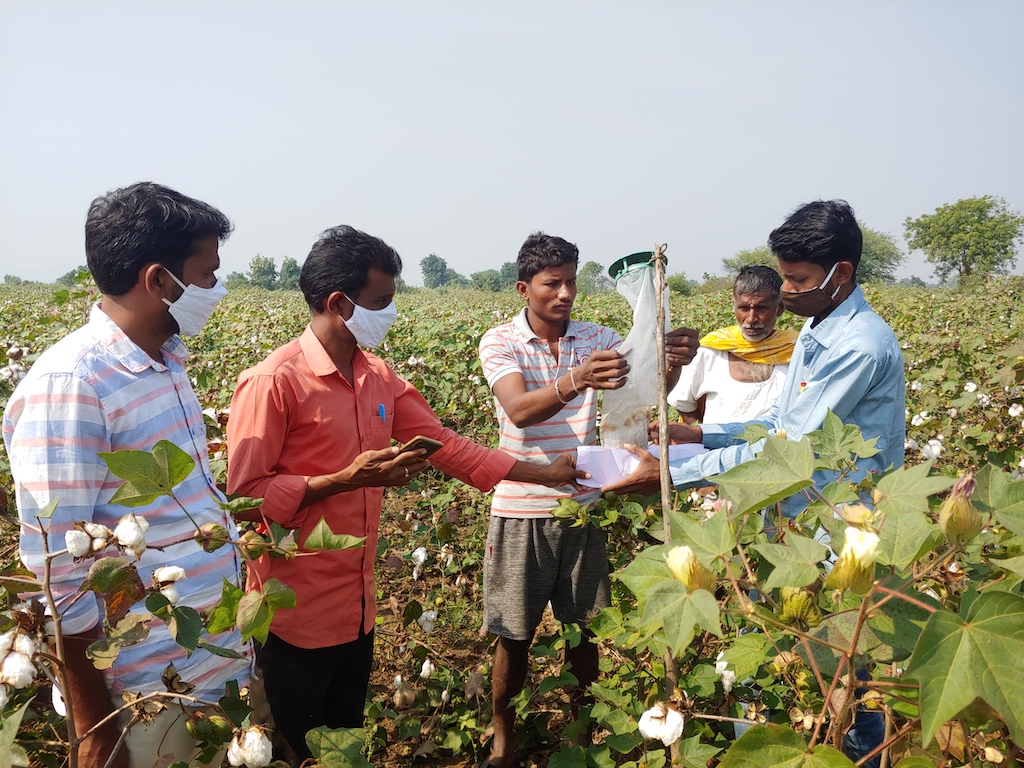 We conducted a successful pilot for our pest management system in north Karnataka with 120 farmers. Some of our adopters saw an increase in yield of nearly 17-21% and gave them quantifiable economic benefits. In the 2020 Kharif season, we were able to deploy our app with 700 lead farmers in Maharashtra, Telangana and Gujarat, reaching 17,000 cascade farmers with the help of top Better Cotton Initiative partners, Welspun Foundation and Deshpande Foundation.
We are currently working on deploying a version of our app that works offline. Dharwad University conducted an independent study to verify our results. Consulting firm E&Y are conducting an additional audit. We will announce the results of that study and our pilot soon.
TRACE-TB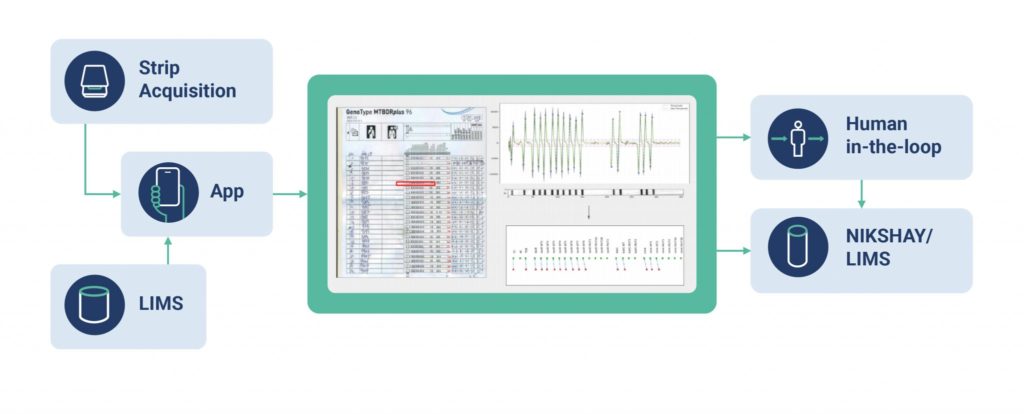 Our TB team is now a close ally of the Central Tuberculosis Division (CTD) of the Ministry of Health and Family Welfare (MoHFW) of the Government of India. We are working together to develop ways to use AI to manage tuberculosis in India. Alongside this, we partnered with USAID to launch the TRACE-TB (Transformative Research and Artificial Intelligence Capacity for Elimination of TB and Responding to Infectious Diseases) program with the ambitious aim of eliminating TB from India by 2025, five years ahead of global timelines set for the country.
We have chosen three paths to solve TB in India:
1) Using AI to read Line Probe Assay (LPA) to improve efficiency and minimise errors.
2) Identifying patient behaviour patterns to identify those at risk of being Lost to Follow Up (LFU). One reason why patients die from this curable illness is when they don't follow up with their healthcare advisors and stop following the medicine regimen. We are using AI to identify at-risk patient behaviour so extra care can be directed towards them.
3) We are working to make public healthcare systems AI-ready. In the context of TB, this would mean initiatives for facilitating processes for sustainable use of AI and data-driven tools under NTEP.
Newborn Risk Assessment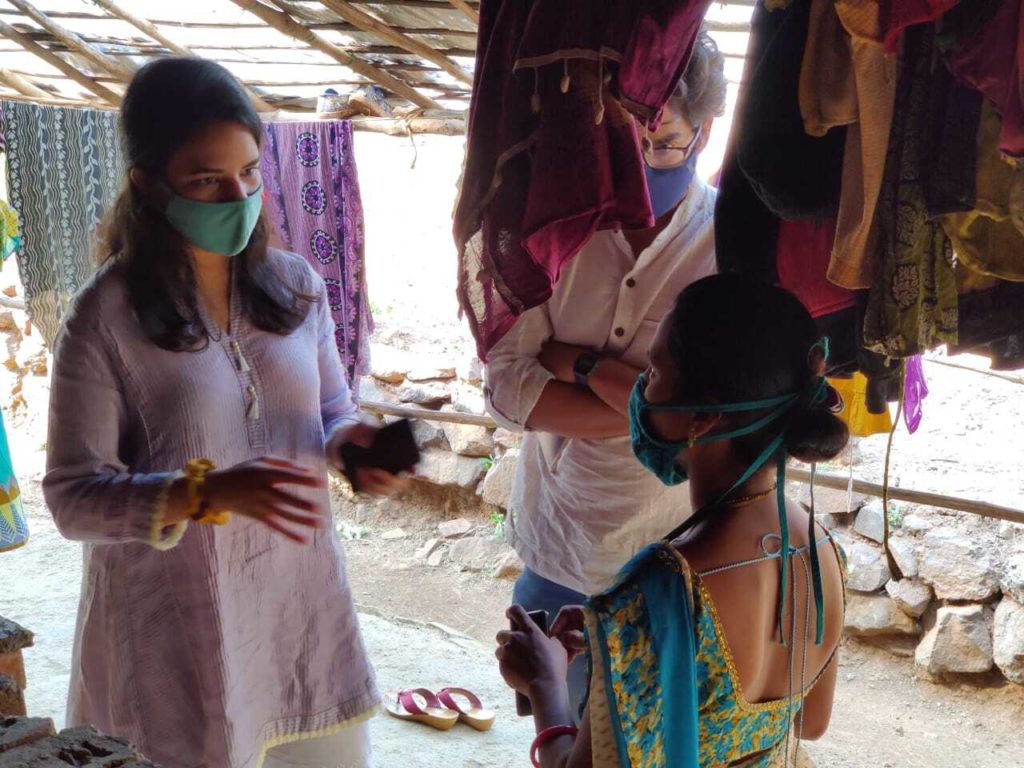 About 40% of newborns that need intervention are missed. A primary indicator is low weight at birth, however, the current approach to weight-based classification has not been working well. Along with various state governments and NITI Aayog, we have partnered with prominent academic institutions and implementation support organisations like SEWA Rural, WISH Foundation, Norway India Partnership Initiative (NIPI) and Piramal Swasthya to improve health outcomes for at-risk low-birth-weight babies in underserved areas.
In hospital settings, we have achieved a Mean Absolute Error (MAE) below 100g and are able to classify low-birth-weight babies with a recall of 90% and a precision of 85%. We are now adapting the technology and solution for use in community settings by frontline health workers such as ASHAs and Anganwadis.
The aim is to enable frontline to achieve accurate, geo-tagged and timely identification of at-risk neonates, who may have been missed at the institutions, for simple home-based interventions. This will be paired with real-time risk screening data for health administrators to drive transparency, guide policy and optimum distribution of constrained resources.
Government partnerships and policy initiatives
Wadhwani AI was established to solve large-scale societal problems using the power of AI. To achieve this, we have always focused on partnering with State and Central governments to identify use cases, collect data, conduct pilots and deploy solutions.
We have been supporting the National Health Authority (NHA) to explore use cases in the integration of AI in the architecture and rollout of the ambitious National Digital Health Mission (NDHM).
We are supporting the MoHFW by designing AI/ML algorithms for deduplication. In partnership with the University of Chicago and International Innovation Corps, we created the Wadhwani AI – IIC Fellows program, where seven young professionals were selected and placed across divisions at the MoHFW and NHA.
We also work closely with the Governments of Maharashtra, Telangana, Gujarat, Rajasthan, Bihar, Orissa and Jharkhand, among others. Last year, the Government of Telangana launched an initiative '2020 Year of AI' under the T-AIM (Telangana AI Mission). As CEO of Wadhwani AI, I was appointed as a Governing Council member, along with other prominent representatives from the government, industry, and academia.
We have had a fulfilling partnership with the Center for 4th Industrial Revolution, World Economic Forum. In 2020, we were core team members and contributors to the 'FIRST Healthcare' report, a strategy document and institutional framework for implementing AI in Healthcare. We are also a core part of their AI4AI initiative in Agriculture, which is being spearheaded in Telangana, with multiple other startups and organisations involved.
The support and enthusiasm that governments have shown so far towards our work have been very encouraging. We hope to continue working hand-in-hand with governments and public institutions, among other stakeholders, to create maximum impact.
Team Growth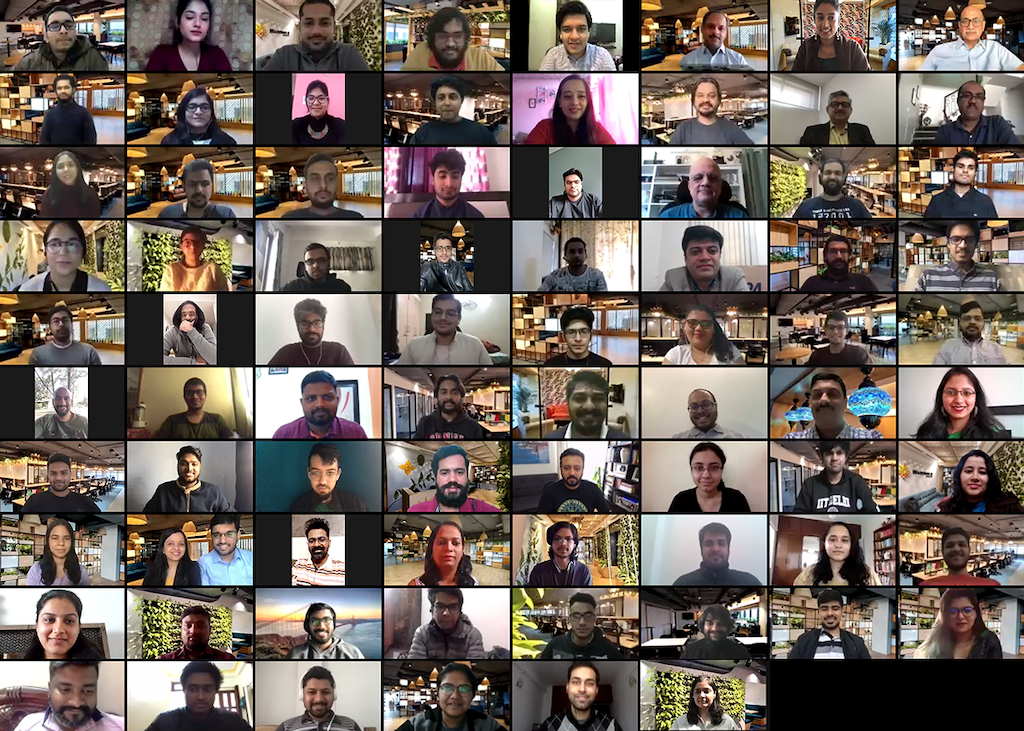 We learned to thrive in the lockdown and embrace remote working. The Wadhwani AI family has grown to a 100-people strong team scattered across the world in different timezones. Recently, we welcomed nine Google Fellows as part of a six-month Google.org fellowship program.
I want to especially thank Dr Srujana Merugu and R Chandrashekhar (former Secretary of MEITY and DoT), who continue to provide their valuable expertise and advice on a number of our projects.
Looking Ahead
In the next 12-18 months, we plan to:
Develop a playbook for future pandemic preparedness by documenting our insights from both Covid projects through technical papers and open-sourcing our codebase and datasets.
Pilot a neonatal risk assessment tool that incorporates smartphone-based anthropometry and demonstrate usefulness to the health system.
Scale adoption of our integrated pest management tool to reach three lakh, Indian farmers.
Develop a computer vision tool to interpret TB Line Probe Assay results and integrate it for field validation across 50 labs (out of 80) and 50k tests.
Integrate our TB Adherence solution with NIKSHAY.
Deliver a blueprint to CTD for creating AI-readiness in TB health systems.
As always, thank you for your support. We value each one of you.
— Dr P Anandan
Dr Anandan was the founding CEO at Wadhwani AI. He retired in March 2020.